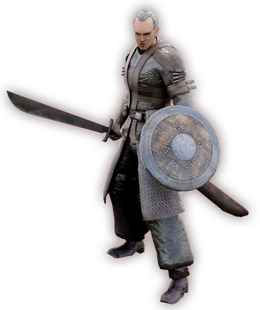 The Wanderer is a class in Demon's Souls.
Description
Edit
"A lightly equipped soldier that continues an aimless journey. They have especially high dexterity and are skilled at using a curved sword. They also have high luck, but because their initial equipment is shabby, they are weak to attacks."
Overview
Edit
Wanderers are equipped for engaging foes with finesse, starting the game with fast-attacking weapons and light armor that allows for swift movement and evasion. Additionally, they are one of two classes capable of inflicting a status effect (Bleed) from the beginning, the other being the Soldier. However, their shield is not particularly good for blocking or parrying, nor is their light armor very protective in any regard. To counteract this, they encounter item drops more frequently than most other classes.
Starting Equipment
Edit
Starting Stats
Edit
Community content is available under
CC-BY-SA
unless otherwise noted.