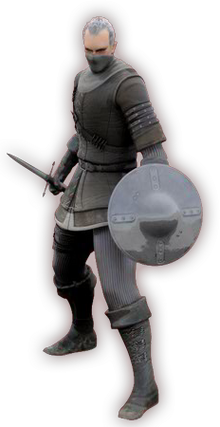 The Thief is a class in Demon's Souls.
Description
Edit
"They are hired by royalty and engage in dirty jobs. This character is good at sneaky tactics such as surprise attacks, ambushes, and critical attacks after parrying. They have very good luck."
Overview
Edit
Thieves are not well-suited to direct confrontation, with poor defenses, a weak dagger, and an easily-penetrated shield. They are instead meant to rely on more tactical fighting techniques, such as backstabbing, parrying and riposting, and evasive maneuvers. A thief will see items drop with noticeably greater frequency than other classes.
Starting Equipment
Edit
Starting Stats
Edit
Community content is available under
CC-BY-SA
unless otherwise noted.