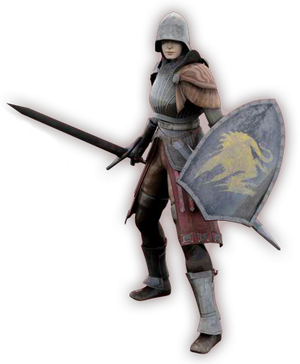 The Knight is a class in Demon's Souls.
Description
Edit
"A knight class is of a rather advanced area of southern Boletaria. This is a character that is equipped with hard metal armor and shield, and thus, excels in defense, but because they have low luck, it will be difficult to obtain items."
The Knight lacks in physical stats compared to other fighting classes, but makes up for it somewhat in his comparative mental refinement. He can access both miracles and magic without much work and starts with a versatile equipment set. However, he seems to be somewhat lacking in the Luck department, making item discovery from enemies relatively low.
Starting Equipment
Edit
Starting Stats
Edit
General Strategy
Edit
The Knight is generally a good starting point for any new players, as it is well equipped and its stats are fairly well rounded. However, its poor Luck can make it somewhat hard to farm enemies for their drops, potentially making it harder for them to upgrade their equipment.
Due to the well rounded stats, the Knight is one of only two classes, the other being Royalty, to be able to use both Spells and Miracles without levelling up. It is also one of the few classes able to use the Bastard Sword effectively at base Soul Level.
The Knight is one of the most adaptable of the starting classes, early on. If the player wants to improve their mobility, it is possible to unequip the Helmet and Armor. This will allow the player to fast roll with little impact on survivability. It is possible to wear the Helmet as well, although this comes at the price of both the Long Sword and Shield.
Community content is available under
CC-BY-SA
unless otherwise noted.