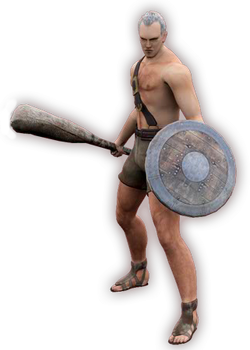 The Barbarian is a class in Demon's Souls.
Description
Edit
"A person from a primitive civilization. Out of all the classes, they have the highest Soul level, vitality, endurance, and strength, but their initial equipment is the worst. They have no armor and their only weapon is a club."
Barbarians have the highest starting Strength and Vitality of any class and have very high Endurance; they deal very high damage with their clubs for so early in the game, can attack and dodge more quickly and more often than most other classes, and can theoretically sustain more damage without dying. However, as they do not have particularly high Luck, have a relatively poor shield, and are completely unarmored, this can prove a difficult class for players inexperienced with dodging and parrying.
Starting Equipment
Edit
Starting Stats
Edit
Community content is available under
CC-BY-SA
unless otherwise noted.